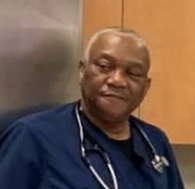 Michael 0. Bamgbopa, CRT was a former SEIU Local 722 Member and Respiratory Care Practitioner at Children's National Medical Center. He was born in Nigeria and resided in the Washington, DC area for approximately 40 years. Education and learning were some of the things particularly important to Michael. Prior to his arrival in the United States, he worked as a Bank Auditor and he later traveled to Italy and studied Italian. Michael loved to talk and read, so it does not come as a surprise to know that he mastered several languages during his life. In his count""ry, he also studied structural engineering. When Michael arrived in the United States in 1982, his desire to learn did not stop. He took advantage of the many opportunities afforded to him. He studied computer programming before he decided on a career that would expand over 20 years. Michael was a 1999 graduate from Prince George's Community College in the Respiratory Therapy Program. This major career change in his life allowed him to work with adults at Shady Grove Hospital, but his heart was with the pediatric population at Children's National Hospital.
Michael had the gift to talk. He enjoyed talking with patients, their family members, his fellow Respiratory Therapy colleagues, the Doctors, Nurses, and other employees at the hospital who would listen to him. This was evident by the many kind and heartwarming statements that were presented to his family or expressed to his coworkers in Respiratory Care Services. Some of the quotes that described Michael were, "dedicated", "great man", "best coworker", "kind with the children", "he will be missed at Children's", "he was loved by many at work", "highly skilled" and "hard worker".
Michael took pride in his daily assignment and he did not complain when his assignment was on overload. He always completed his assignment in a timely manner. Michael made sure his day was structured so that he could enjoy lunch in a quiet spot in the cafeteria. That was his time to get refreshed and continue with the 2nd part of his day.

I specifically remember Michael for always having that big smile in my pictures at the many departmental events when I was there with my camera.
by Carolyn A. Williams, RRT, FAARC